Black Friday Survival Tips
By Brandon Godfirnon •  Updated: 11/11/21 •  7 min read
As I write this and I realize Black Friday is now just a week away I wonder, like always…where did the time go??? How is it already nearly the end of November? Anyway, you're looking for Black Friday survival tips, and I promise we'll get to them in just a minute.
This will now be our second Black Friday spent in the middle of a pandemic. Some things have surely changed with the unofficial holiday, but one thing hasn't:
Everyone still wants those deals!
So here is the best Black Friday survival guide I could put together.
Black Friday Survival Tips
What a crazy year. Are you itching to get back out to the stores and try to recapture some normalcy?
Here are a few things to help you out on the busiest shopping day of the year.
Have a Budget and Stick To It
This goes for whether you're shopping in person or online. Having your budget in order before you go shopping is important so you don't overspend on gifts.
Know exactly how much you have to spend and commit to that.
Once you've hit your Black Friday shopping budget, then call it a day. I'm sure you'll have a lot of wrapping to get to anyway!
Make a List and Check It Twice
Just like Santa himself, it would be a good idea for you to make a list of all the items you're searching for.
If something you're looking for has a really good deal on it then by all means go for it.
But just because something cool is on sale doesn't mean you should buy it.
Don't get distracted by shiny objects. Keep your eye on the prize!
Compare Several Prices Now
Those retailers get a little tricky with their marketing gimmicks and it's easy to get caught up in some feverish paced buying that you may not even realize "the good deal" is not really a deal at all.
Wouldn't you rather save your money for the items that are a steal?!?
Check those prices early so you have a mental note of what is a good deal and what isn't when you're in free for all mode at the store.
One of the best ways to do some research is to check out all the Black Friday ads from different retailers which have been posted here. Then you can compare them to what the prices are right now.
Black Friday Survival Kit
Pack yourself some supplies as you go out shopping.
Maybe take some waters or whatever your drink of choice is.
Some snack foods or protein bars would be a good idea for some added boosts of energy throughout the day, especially if you're going to be up early and maybe can't get a good breakfast in.
And, don't forget about hand sanitizer. While it's become pretty common to keep some hand sanitizer with you, maybe keep a little travel size in your purse. Shopping carts are nasty.
Be Calm and Patient
With all the craziness we've had to endure over the last couple years, let's take a moment to remember we're all lucky to be able to shop on Black Friday.
So, if there are long lines to wait in, don't get upset or frustrated, just relax and enjoy the moment.
Also, remember to wear some comfy shoes since you'll probably be walking and standing a lot. Being comfortable will go a long way towards relaxing.
Go with a friend if possible. It's always easier to pass the time of waiting if you have someone to chat with!
Use a Rewards/Cashback Credit Card
Don't forget to take advantage of cashback or rewards points!
There's nothing better than saving money while you save more money.
Best All Around Credit Card For Black Friday
Chase Freedom Flex offers different 5% categories every quarter, and for the 4th quarter of 2021 it just so happens to be for purchases made at Walmart OR made using PayPal (but you can't use Paypal at Walmart with the card and double dip, it's 5% total…but I'll show you how you can double dip soon!)
5% Back At Walmart in Q4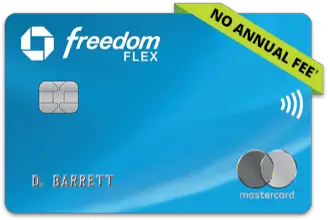 The Chase Freedom Flex is offering a great 5% promotion for Oct-Dec of 2021!
5% points on purchases at Walmart
5% points on purchases made through Paypal
$200 bonus after $500 spend in first 3 months
Why would I choose this Chase card over say the Walmart branded credit card that pays 5% cash back?
Because you can stretch those rewards points into so much more value vs just getting cash back.
For example, I've stayed at the lovely Park Hyatt hotel in NYC before on points from my Chase cards. The hotel books for $1000+ a night, but you can redeem 30,000 points for a free night. So while a straight cash out of those points would be $300 ($0.01 per point) I could stretch those same points into a super nice hotel room, effectively getting a 3.3 cent per point value.
That is why I think Chase Ultimate Rewards or American Express Membership points are so valuable!
Store Branded Credit Cards
Store branded credit cards usually give you certain perks for shopping at that particular brand, like these major retailers:
Target offers 5% back when using their RedCard. Can only be used at Target though.
Amazon Prime card offers up to 10% cash back on some Amazon items, 5% back on other Prime purchases.
Walmart offers 5% cash back (you have to use Walmart Pay, which is a phone app to collect the 5% in store.)
Rakuten For Online Shopping
If you choose to stay at home this Black Friday and instead do some online shopping, make sure you're signed up for Rakuten.
Double dipping is for real! Here's how:
When you load up the Rakuten Chrome Extension it will automatically alert you to deals when you're browsing sites.
For example…here's what it would look like when you go to Walmart.com: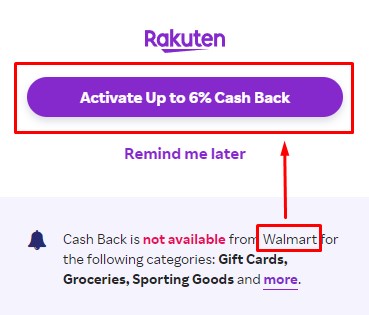 Walmart is offering up to 6% cashback through Rakuten (some categories are excluded, so be sure to check) but if you pair that with either the 5% Cashback Walmart card or the 5% Chase Freedom bonus at Walmart, you're talking about 11% back in certain categories. On top of already discounted Black Friday prices!
Not to mention, Rakuten is linked up with 1000s of other retailers also and they even offer insane 11% cash back bonuses from time to time.
Click Here To Start Using Rakuten
Frequently Asked Questions (FAQ)
Here are some of the most popular questions about the Black Friday holiday.
When Is Black Friday?
This year, Black Friday is on Friday, November 26th, 2021.
What Stores Will Have Black Friday Sales?
Luckily I don't have to list them all out because the nice people at BlackFriday.com made a page with all the companies participating in Black Friday sales.
You can view that here.
Is Black Friday Losing Popularity?
I don't think Black Friday is losing its popularity so much as it is being re-imagined.
Even before the pandemic, retailers were creeping Black Friday into multiple days. (Remember when Walmart and other stores started their Black Friday sales ON Thanksgiving Night?)
We're also seeing a shift to more online shopping, which was up 8% in 2020 over 2019. And 2020 was also the first year that online shoppers surpassed 100 million on Black Friday.
Most likely, the trend towards online shopping will continue and Black Friday will be less of an in person retail event, but more of a week or month long deal fest.
Final Thoughts
Well, I hope these Black Friday survival tips were helpful for you.
The goal is to get what you want, save some money and above all, stay safe!
Happy shopping!
Brandon Godfirnon
Brandon is the founder of Spendster. Whenever possible he likes to contribute articles about credit cards, travel hacking and general financial education. He has an awesome wife and spoiled dog.