Can You Use an Abercrombie Credit Card At Hollister?
By Bruce Boswell •  Updated: 12/14/21 •  6 min read
Have you recently taken out an Abercrombie credit card and are wondering if you can use it at Hollister? Perhaps you haven't used this card in a while and are wondering where you can use it?
Or maybe you are curious and want to know more? Whatever your reason might be, we have the answer for you!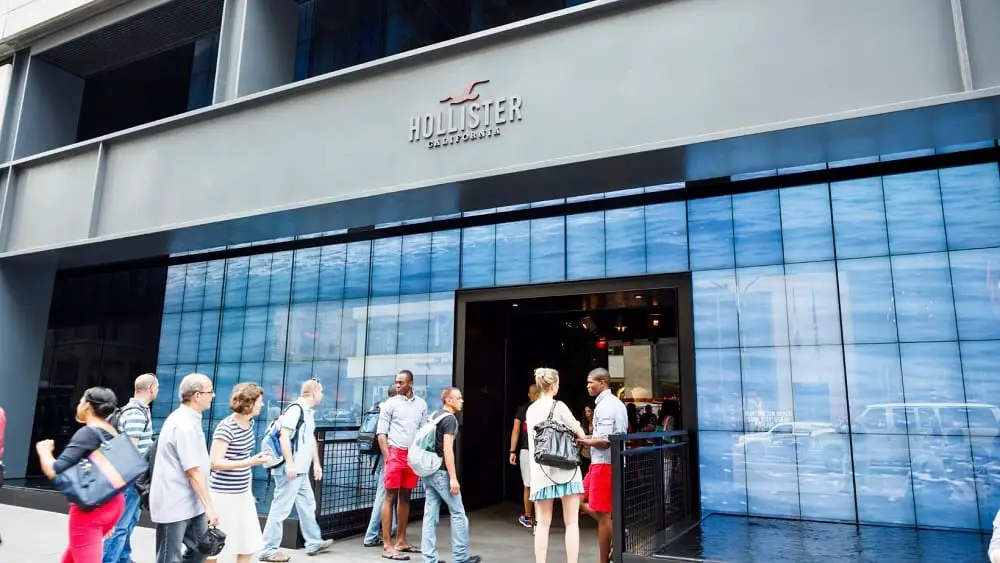 When it comes to store credit cards, there is always a level of uncertainty with them. Although they provide us with the option to make smaller monthly payments and spread our costs, we often find ourselves wondering if we can only use them in the store that we bought them in. 
We start to worry if we have bought a dud card, one that we can hardly use, and are now stuck with. What do you do? Do you cancel it and risk finding out if canceling a card hurts your credit? Or do you desperately search and see what other information you can find? 
Or do you stay with us who have all the answers for you? That's right, today we are here with all the information you need about your Abercrombie card and if you can use it in Hollister or not. Keep reading to find out more!
What Is An Abercrombie Credit Card?
Before we dive in, let's have a quick recap for those in the room that need it! An Abercrombie credit card is a card supplied by Abercrombie & Fitch. The credit card itself is easy to apply for, but you can only receive one.
You will still be subjected to a credit score check as you would with other cards, so if you have bad credit, you might not be able to get one. 
The credit card comes with no annual fee and usually, the monthly payments are fairly low, making it a good option for those that want to spread their payments over a few months. Perhaps you need to update your wardrobe or purchase a new coat?
The card will allow you to do that and not need to pay all at once, just like other credit cards. 
The card also offers no interest if you pay the balance off entirely before the end of the billing cycle, great for those looking for a card that will help build their credit score.
However, just like other store credit cards, if you do not pay the entire bill off that month, you will be hit with high-interest rates. 
The interest rate on an Abercrombie credit card varies depending on the credit, but it averages out at 24.99%. That is quite high for a credit card, especially if you are looking for one to spread your payments with.
To best use this credit card, you would want to pay your card off in full every month to avoid high-interest rates and charges. 
Unlike other store credit cards out there, you don't get any reward or benefit programs. You won't earn points or have access to exclusive deals which can be off-putting for some users.
However, the application process is super quick online and most cardholders report getting approved instantly! The limit isn't too high either, so if you are using the card to help boost your credit score, then you don't need to worry about spending more than you can afford. 
Now that we have covered what an Abercrombie credit card is, let's take a look and see where you can use it.
Can You Use An Abercrombie Credit Card At Hollister?
No, you cannot use your Abercrombie credit card at Hollister. Despite Hollister being part of Abercrombie & Fitch, the credit card cannot be used to make any purchases in a Hollister store, online, or towards any Hollister merchandise.
If you want to purchase anything there, you will need to select a different card or payment option, which can be frustrating for some users. 
When making any purchase, it is always best to check what payment methods are so that you aren't caught short at the cash register. It can also be helpful to have a backup payment option, just in case!
The last thing you want is to put all your items back or be rummaging in your purse for some loose change to make the payment. 
And when you are buying items at Hollister, be sure to leave your Abercrombie credit card in your purse or wallet, as they will not accept it! 
Where Can You Use An Abercrombie Credit Card?
So where can you use your Abercrombie credit card? Well, you can only use it at Abercrombie & Fitch on their merchandise! So if you purchase all your clothes there, it's the ideal card for you!
The credit card can also be used on Abercrombie's website to purchase their merchandise, allowing you the flexibility to shop online if you prefer. 
The card cannot be used in any other stores that sell Abercrombie & Fitch merchandise, nor can it be used on third-party websites. This can be a bit limiting if you don't shop at Abercrombie often or are looking for a card that can be used in multiple stores to help build your credit.
However, there are plenty of other credit cards out there with interest-free periods or low-interest rates that will allow you to use the card in any store and boost your credit score with ease. 
Just remember to make your payments on time and to pay the full amount due if you want to avoid any interest charges! 
Final Thoughts 
And just like that, we have come to the end of our credit card journey today! As you can see, the Abercrombie credit card cannot be used in Hollister or any store other than Abercrombie & Fitch.
Be sure to consider whether you will use this card before filling out your application. The quick application does mean you will have a decision quickly, but be sure to make your payments in full to avoid high-interest charges.
And as always, be sure to speak to a professional if you have any worries about your credit cards or any debt concerns. 
Bruce Boswell
Bruce Boswell enjoys researching and writing about all things related to investing and saving money. Whenever he has a chance, Bruce loves travelling all around the world with his wife and trying new foods.