Buy Now Pay Later Clothes – Learn How To Get Monthly Payments On Clothing Sites
By Rory Ackerman •  Updated: 09/19/22 •  8 min read
Is it that time of the year when you need to update your clothing collection for the upcoming season? Don't worry, even if you can't afford to pay for everything on the spot, the buy now pay later clothes option gives you a way to keep in style now.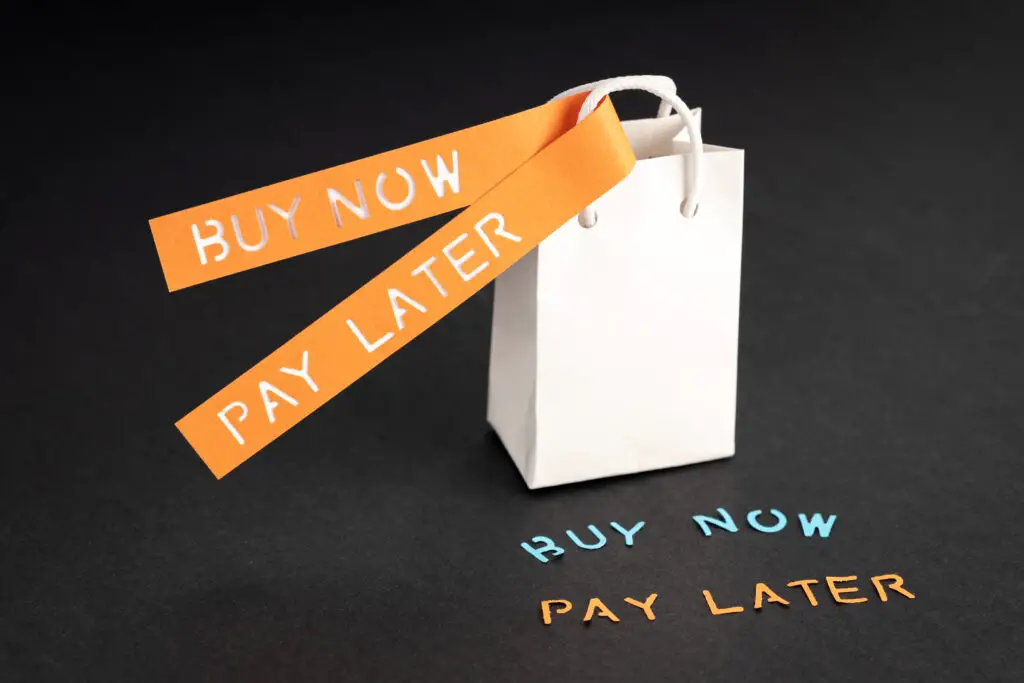 It's easy to find the BNPL option for clothing shops without big bank hassles and with fast credit approval. All you need to do is have at least a decent credit score, and pick the right option that won't end up charging you immense amounts of interest. Sounds interesting enough? Keep reading to find out how you can buy clothes easily with just a few monthly payments!
Key Takeaways
You can use the "buy now pay later" option online and in-store to shop for clothes and pay in monthly installments

Most online plans use Klarna and Affirm with low-interest rates

You can shop for clothes with monthly payment plans on e-commerce sites like Amazon or Monroe and Main

Some shops like H&M, Adidas, and Nike offer in-store payment plans
How The Buy Now Pay Later Option For Clothes Works
As the name suggests, you can now visit clothing stores and sites and shop for your favorite designer items conveniently while making monthly payments on the balance!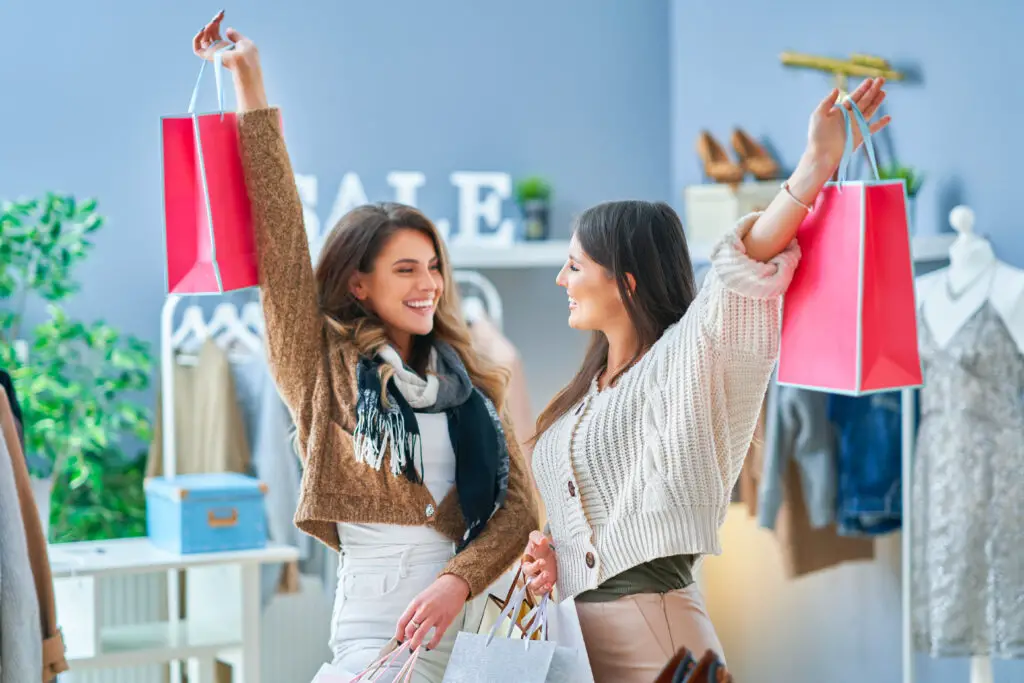 Keep in mind there could be slight annual fees and interest charges on long-term purchases, and that will also depend on the service providing the payment option.
There are several ways you can get a chance to shop now and pay later via monthly installments. Online shopping will give you an array of options, while you might also be able to get the option enabled on the spot.
Major clothing brands allow you to get a membership card and pay with your credit card via monthly installments. Still, the easiest option is to visit e-commerce sites and online shops of your favorite designer clothing chains.
There, you'll mostly get the option to use some of the major BNPL services – Klarna, Affirm and Afterpay. Everything goes through an app, and you can manage your payments, choose a payment plan, and order all of your favorite clothes from the comfort of your home.
The small catch is – you'll first have to pass the eligibility check in form of a soft credit check. This won't reflect on your credit report, it's just a way that Klarna, Affirm, and other services can make sure your creditworthiness suffices for the loan.
With this type of BNPL purchase, the creditor will pay the total to the clothing brand, and you'll keep making monthly payments via the app including interest, if applicable.
Monthly Payments For Clothes With Klarna
Klarna is an online payment method that comes in pretty handy when shopping for clothes. It allows you to pay in installments, and to use their card even in shops on the spot. So, you can combine online shopping and in-store shopping to conveniently pay for your favorite clothes.
Here are some of the main benefits of using Klarna to buy clothes and pay later:
Make purchases with a Klarna card or via the app

The first 12 months are free when using a card

Pay in 4 interest-free installments with only a soft credit check required

Get special deals and discounts

Shop at a wide range of popular clothing brands
Klarna offers its payment service to customers that enjoy shopping in renowned clothing brands. You can shop at Adidas, Nike, Michael Kors, H&M, Zara, and a variety of other shops. It works for most of the shops that accept VISA since Klarna issues a VISA card to its consumers.
You can also always refer to your Klarna account customer service to inquire about any shopping terms. While options like Klarna let you avoid big bank hassles for the loans, there are some things you should have in mind.
Klarna payments don't affect your credit score and you won't pay any interest if you pay in 4 installments. 
However, if you decide to go with a monthly payment plan, Klarna might conduct a hard credit check. So, the major credit bureaus will include it on your credit report. You can inquire with customer support to find the best option for you.
Some interest might also be paid on those long-term payment plans, so that's another thing to keep an eye out for. 
To be able to use Klarna for BNPL clothing purchases, you must be at least 18 years old, a US resident, and you must have made at least one previous purchase with Klarna.
Buy Now Pay Later Using Affirm
Another great service with a fast approval process for buy now pay later clothing is Affirm. It works a bit differently than Klarna since it offers payment plans that range from 3 to 48 months and a more personalized web experience. 
Of course, the longer your payment plan is, the more interest you'll have to pay.
All you have to do to access BNPL purchases with Affirm is register for an account. Everything can be done through the app, and you can shop online using the app. 
You can browse all the stores that accept Affirm as a payment method, and pick your plan.
It includes women's clothing, men's clothing, shoes, and much more. Some of the prominent shops available are StockX, Poshmark, Nike, Adidas, Tradesy, and others. Here's how shopping for clothes with Affirm looks:
Visit shops via Affirm app and fill your cart

Choose a payment plan based on the number of installments, interest, and down payment

Make payments via the app, and set reminders to avoid missing a payment
Affirm is one of the best options for shopping online, as long as you make on-time payments. 
A soft check will be conducted by the company, so it won't leave a trace on your credit report or be reported to major credit bureaus. 
There's also your Affirm account customer service you can use to inquire about particular shops and terms of use.
Buy Clothes On E-Commerce Sites
You can also buy clothes and pay later via e-commerce sites, and all you need is a browser and internet device. Platforms like Amazon and Monroe and Main offer monthly payment plans with convenient interest rates.
The only downside to shopping at e-commerce sites is that you won't be able to find all items found in specific clothing stores.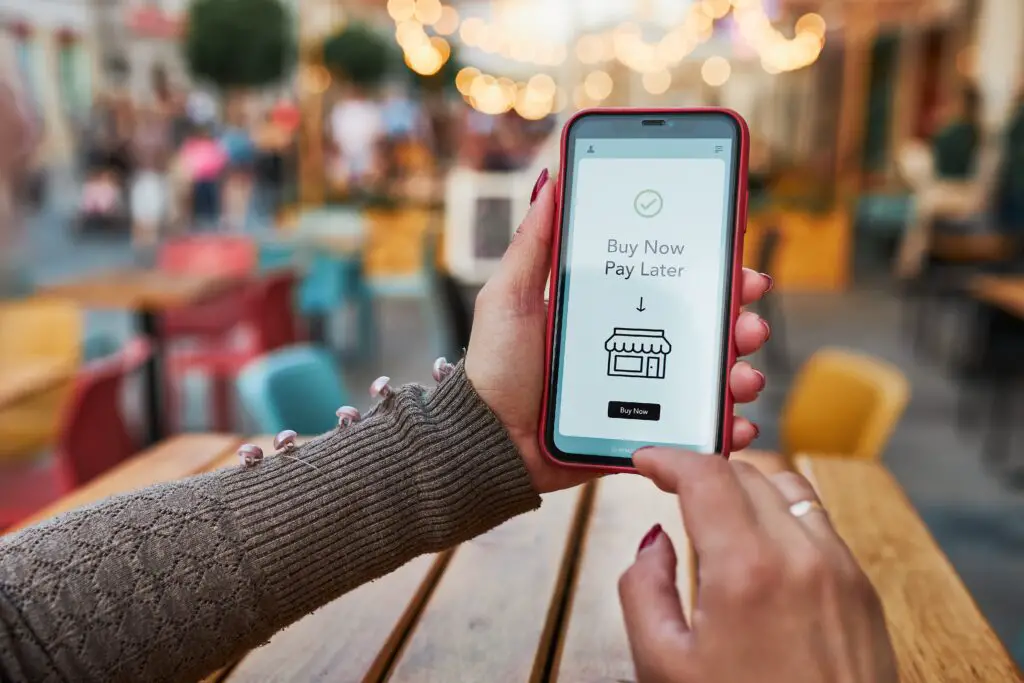 Amazon's monthly payment plan runs through Affirm, while Monroe and Main have their own in house plan called Monroe & Main Credit.
You can shop for clothes with a monthly installment on Monroe & Main being as low as $20 on a purchase of up to $200. Payments can be raised to $25 per month for purchases up to $400, or $30 per month for purchases up to $600.
No hard credit checks are required, and you can get fast approval to start shopping today! 
You'll need to apply for a Monroe and Main credit card, and it's the only major condition. The credit line can be extended, but the APR could rise with it. In general with Monroe and Main, APR rates are between 5% and 25%, and the same goes for Amazon's monthly plans.
BNPL Options In Stores
If you don't want to shop online or use sites that store personal information, you can find some BNPL offers on the spot. There are various shops that allow you to pick your monthly payment plan, and it often doesn't involve a credit check for lower sums.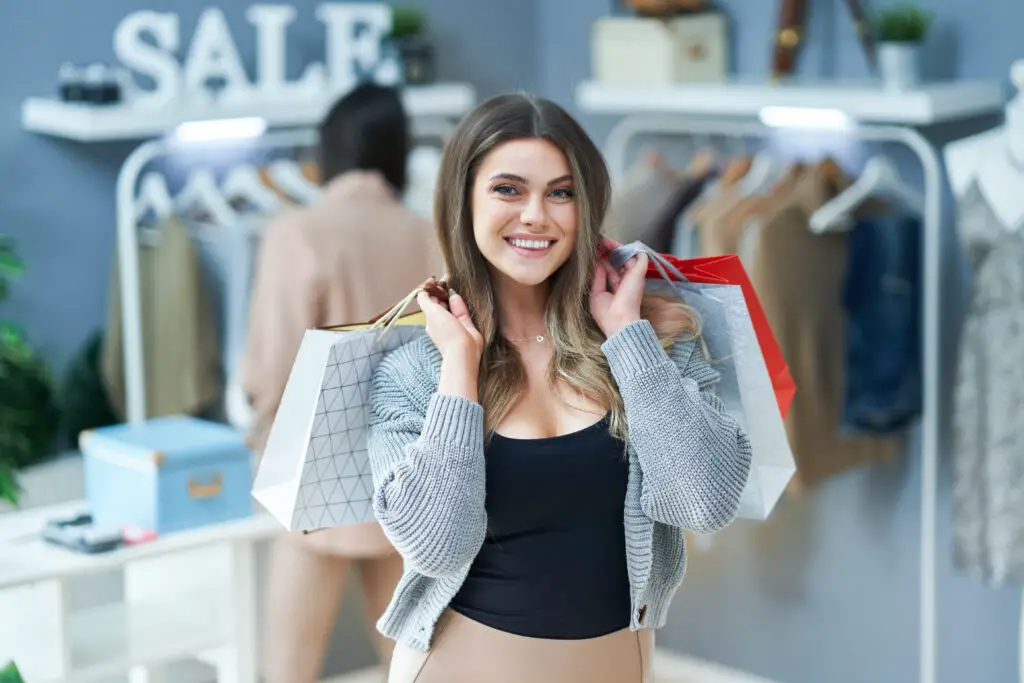 These are the stores that offer buy now pay later financing options on the spot:
H&M

Rat & Boa

Macy's 

Addidas

Walmart Clothes

Nike

Target
Final Thoughts
If the "buy now pay later" option for clothes seems attractive, now you'll know exactly how and where to use it. Hopefully, this guide helps find the best solution for your clothing along with the low-interest rates that come with the buy now pay later methods.
You'll now be able to shop in your favorite stores and get a clear overview of the shops that offer BNPL financing. 
As long as you don't go over the credit line and make on-time payments, you should be able to shop for clothes at the most convenient prices.
Frequently Asked Questions (FAQ):
Most of the "buy now pay later" plans on major retailer sites and shops go through reliable platforms like Klarna and Affirm, so yes it is as safe as shopping online in general.
What is the easiest way to buy now and pay later?
You can visit your favorite clothing stores and use platforms like Affirm and Klarna to make payment plans. These options use an app and you can always reach out to a friendly credit representative if you face any troubles.
Are there any fees included with BNPL clothing plans?
Some options like Klarna allow you to make payments in 4 installments without any interest paid. However, you can expect an APR rate from 5% to 25% for longer plans, so you should inquire about the conditions on the customer support page of the service for further clarification.
Rory Ackerman
Hi, I'm Rory! I've worked in the banking industry for quite some time and wanted to help provide my expertise with all things credit related. In my spare time I like to play video games and collect sports cards.