How Do Credit Card Readers Work?
By Bruce Boswell •  Updated: 12/14/21 •  6 min read
Today's world is primarily cashless, and card machines play an important part in offering a seamless and quick consumer experience. In-store payment options often include a credit card machine or classic credit PDQ devices with chip and PIN and contactless capabilities. There are many different types of cards these machines must differentiate between.
Buyers may be forced into paying minimal contactless payments in some cases if a firm wants to eliminate minor payments made.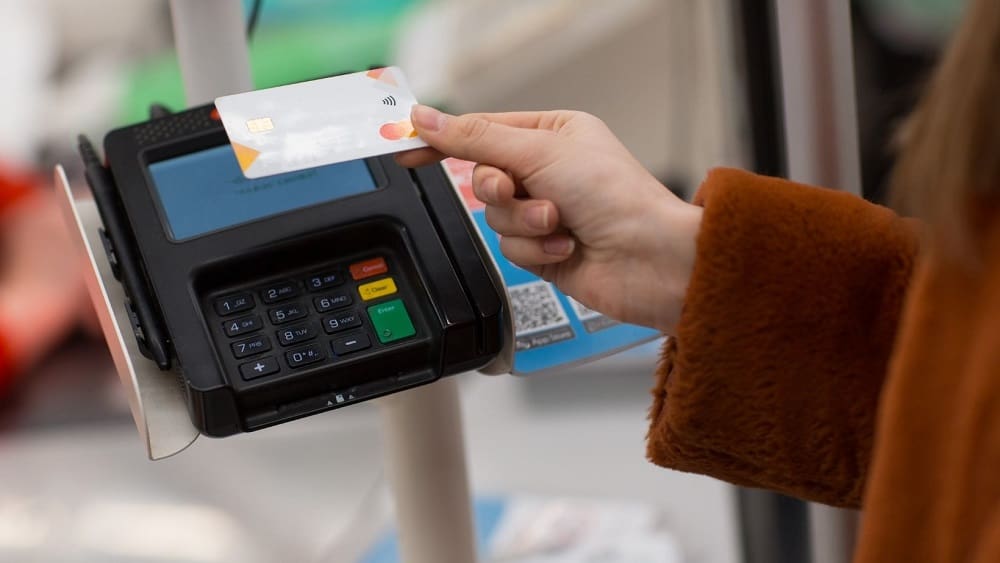 Card readers are a fairly recent payment solution since they are tiny, portable, and available 24 hours a day, seven days a week. A card reader is basically a thinner, more aesthetically pleasing alternative to a card machine. They both accept card transactions in the same way.
In this post, we'll explain how a variety of various card readers function and how transactions are handled. We'll also go over how contactless readers function, as well as the mechanism that powers card reader transactions.
So, How Do Card Readers Actually Work?
Credit (and debit) card readers operate by scanning a user's credit card details and transmitting financial data to both banks and other financial card systems. The credit card payment procedure is divided into several parts, which we've outlined below:
Step 1 – Initial Authentication
The card reader analyzes the purchaser's information using the details included in the card's microchip milliseconds after the consumer touches (contactless) or inserts (chip & PIN) their card (or QR code for mobile payments).
The activity notification will be received by the company's commercial bank immediately after the card payment is made.
Step 2 – Transaction Verification
After receiving the payment card application, the banking institution will visit the customer's card issuer (e.g., Visa, Mastercard) to validate the account and acquire payment authorization from the user's bank.
Step 3 – Authorization
The payment will then be authorized by the debit/credit card issuer, who will validate that the user's card information is correct and that there are adequate funds in the consumer's bank account.
Step 4 – Confirmation
When the transaction is approved by the customer's bank, verification will be sent out to the card machine, telling the payment processor that the payment has been approved.
Regardless of the fact that the payment is authorized in a matter of seconds, it often takes 2-3 days for the user's bank to deliver the money to a bank. A bank accepts credit/debit card transactions on the trader's behalf.
What About Contactless Payments?
Many card providers, notably EMV (Europay, Visa, Mastercard) and American Express, now provide contactless payments. Consumers use contactless payment by holding their cards within a tight range of the card machine, allowing the device to connect with the little microchip. 
The card's chip is equipped to transmit brief radio signals that transmit the user's card details to the cashless payment device. The technology is known as radiofrequency, or RFID, and it is utilized in a variety of items such as security tags, timepieces, and safety fobs.
RFID technology is also used in Apple Pay and Android Pay gadgets.
How Do Mobile Payments Work?
As previously mentioned, Apple Pay and Android Pay utilize the very same Rfid system which is used to handle cashless transactions. Apple Pay and Android Pay are both instances of NFC digital payments (near field communications). NFC is the less appealing official term for electronic payments. 
NFC payment information is highly protected and secured by numerous levels of defense to guarantee that debit card information is safe and secure.
Users commence NFC transactions for systems such as Apple Pay and Android Pay by hovering their smartphone over the contactless scanner while simultaneously tapping their fingerprints on the home screen.
Apple Pay
First and foremost, Apple Pay is only available on Apple devices. Don't start cracking the network with your fresh Samsung device.  The following step in configuring Apple Pay is to snap a picture of your credit/debit cards inside the Apple Pay application and save the information to your Wallet.
Apple sends the card details acquired from your image and swaps it with a 'token' that replicates your special card or a sequence of digits via a process known as 'Tokenization.'
Apple's token doesn't really show your real credit/debit card information, therefore you don't have to fret about scammers or criminals penetrating your phone. 
Android Pay
For Android smartphone owners, Android Pay goes through a process that is nearly comparable to Apple Pay. Android Pay, an innovative mobile wallet system for smartphones and tablets, enables clients to store their information on their smartphones for use at the grocery or the fitness center.
The NFC payment mechanism employs RFID to handle transaction data.
Do Card Readers Require Wi-Fi To Work?
The quick answer is that no, a card reader does not require WiFi. Everything a debit/credit card reader does is encapsulate a user's bank card or direct debit information and send it to the POS software.
The POS then transfers the information to the store processor, and the payment does need a connection to the internet (albeit not always WiFi) to be completed. A 3G, 4G, or 5G equipped smartphone or tablet with a Bluetooth connection to the required applications can obtain an online connection.
To use a Bluetooth ticket generator, receipts could also be issued without Wi-fi connectivity.
If you do not have any access to or enough WiFi and must depend on 4G, 3G, or GPRS for internet connectivity, you may be questioning how much an information card reader consumes, particularly since data charges aren't included in any standard rates.
There seem to be a handful of various points of view on this, however, the overall conclusion appears to be about the same – card machines don't consume a lot of data.
Final Thoughts
Considering the present state of affairs, card readers are more vital than ever before, therefore it's important for organizations to know what works in order to stay ahead of the competition. You can even use a card on vending machines.
Payment options, methods, and procedures will continue to evolve, whether you are a first-time successful entrepreneur or an experienced expert. 
If your company is seeking to expand, it may be worthwhile to investigate some of the finest credit card readers for small businesses and maybe some of the more recent card reader applications and relevant software.
Now that you know how they work, read here to answer Can Credit Cards Get Wet?
Bruce Boswell
Bruce Boswell enjoys researching and writing about all things related to investing and saving money. Whenever he has a chance, Bruce loves travelling all around the world with his wife and trying new foods.